←
→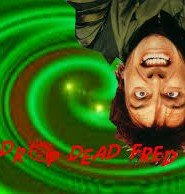 Drop Dead Fred
DROP DEAD FRED is a happy, anarchic, and mischievous imaginary friend  of a young girl named Elizabeth and sworn enemy of her overbearing mother, Polly. Drop Dead Fred causes chaos around the home and neighbourhood, but nobody can see him except Elizabeth. When she grows up and has an emotional crisis, he returns to "cheer her up" in his own unique way, causing more chaos than ever before.
Dishes, relationships, wind. DROP DEAD FRED breaks everything.
LEAD CAST
RIK MAYALL -- Drop Dead Fred
PHOEBE CATES -- Lizzie Cronin
CARRIE FISHER -- Janie
MARSHA MASON -- Polly Cronin
TIM MATHESON -- Charles
ASHLEY PELDON -- Young Lizzy
RON ELDARD -- Mickey Bunce
DANIEL GERROLL -- Nigel Cronin
ELEANOR MONDALE -- Customer Charles
KEITH CHARLES -- Murray
SJOUKJE DE JONG DOUMA -- Grandma Bunce
CAMEO
BRIDGET FONDA – Charles friend at Galery
PAUL WEBSTER (producer) – Car Burglar
TONY FINGLETON (writer) – Wine Taster
CREW
director -- ATE DE JONG
writers -- CARLOS DAVIS & TONY FINGLETON
story by – ELIZABETH LIVINGSTON
casting -- LYNN KRESSEL
dop -- PETER DEMMING
production designer -- JOE GARRITY
wardrobe -- CAROL WOOD
animation credits -- STEVEN SEGAL
editor -- MARSHALL HARVEY
music composer -- RANDY EDELMAN
executive producer -- TIM BEVAN, SARAH RADCLYFFE (uncredited)
producer -- PAUL WEBSTER
produced by -- POLYGRAM and WORKING TITLE FILMS
DROP DEAD FRED has slowly reached a cult classic status. In the last few years more and more articles appear in praise of the movie. May FRED live forever.