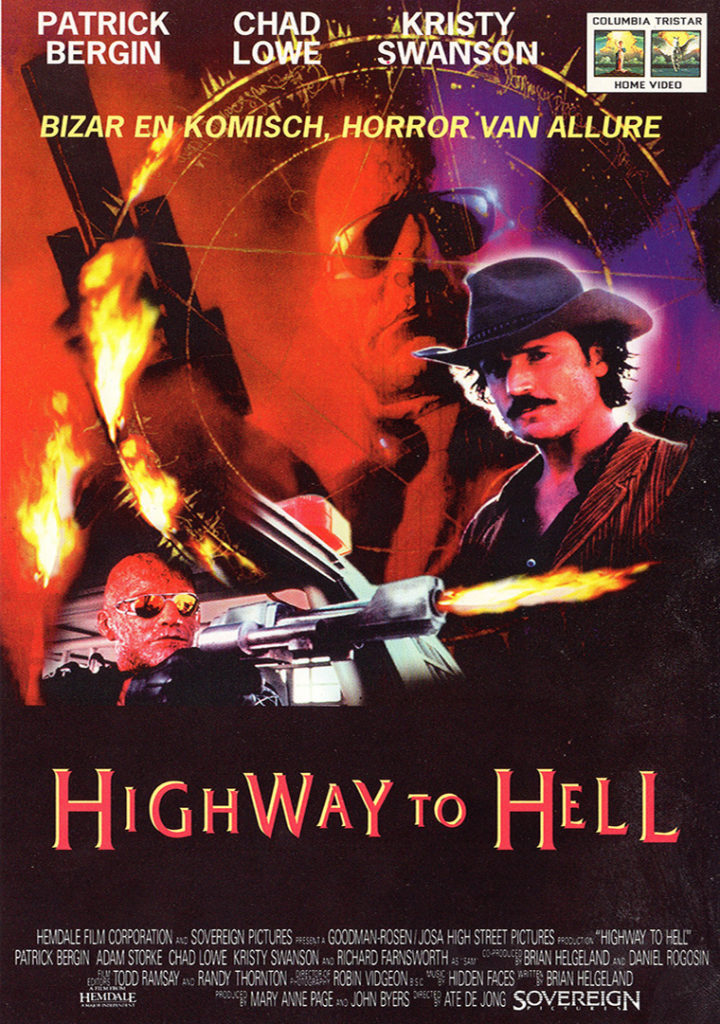 HIGHWAY TO HELL is a US feature film made in 1989 (released in 1991).
Chad Lowe (Life Goes On) and Kristy Swanson (Buffy the Vampire Slayer) start in this horror-comedy-action-adventure as young lovers Charlie and Rachel eloping to Las Vegas for a secret wedding. Standing in their way is Satan, who has taken a liking to the lovely Rachel and has sent Hell Cop (C.J. Graham. Jason Lives: Friday the 13th part VI) to bring her down to Hell where she can satisfy his develish lust. When Charlie follows, he's thrust into an expected world of living satanic bikers, cannibalistic blondes and a coffee shop where the only thing living is the food. Charlie has a regular run-in with Greek mythology.
The stellar cast includes Patrick Bergin (Patriot Games), Richard Farnsworth (The Straight Story). The Stiller family: Jerry Stiller (Seinfeld) with his wife Anne Meara as Medea, his daughter Amy Stiller as Cleopatra and A-list-star son Ben Stiller…. Also featuring rocker Lita Ford and (Jewish) comedian Gilbert Gottfried as Hitler. Directed by cult director Ate de Jong (Drop Dead Fred) with a screenplay by Oscar winner Brian Helgeland (LA Confidential).